A farm-stay guesthouse in South Iceland.
Welcome to Sólheimahjáleiga.
We are a family run farm & guesthouse operated by Elín & Jónas and Einar & Sara and their two small children Gréta and Ásmundur. We are three generations living here at the moment and the estate has been in our family for over 150 years. We started offering accommodation in 1984 and we were among the first traditional farms to do so. We are proud of our heritage and strive to make our guest feel welcome.
In Sólheimahjáleiga we offer accommodation in two houses; the Old House and the Barn. Both houses have been renovated to maintain a relaxing atmosphere while still holding on to the old charm. We serve breakfast and dinner in the dining room, where you can also purchase drinks and snack.
Along with running the guesthouse, we operate a sheep farm with 270 sheep. We also have 5 goats, a few hens, a few ducks and two very friendly dogs called Perla and Ronja. If you wish to know more about the farm and arrange a visit to the sheep house, please let us know in the reception.
Double room with shared bathroom
This room features bright, modern decor and shared bathroom facilities.
1 x double bed or 2 x single beds
Bed linen, towels, hairdryer, toiletries, Wifi and parking
Twin room with shared bathroom
This room features bright, modern decor and shared bathroom facilities.
Bed linen, towels, hairdryer, toiletries, Wifi and parking
We serve breakfast and dinner every day in our restaurant.
Breakfast is usually included in our room rate. We offer a breakfast buffet with healthy and home-made options.
Breakfast is served at the restaurant from 08:00 – 9:30 from 1.December – 29.February and from 07:30 – 9:30 from 1.March – 30.November.
Our menu is simple and features fish, meat, chicken and vegetable dishes along with a soup of the day. We focus on serving locally sourced produce to ensure the freshest test. Dinner is available from 19:00 – 21:00 every evening, however, we are able to arrange dinner outside these times upon request.
You can purchase drinks and snacks from the restaurant as well. 
Sólheimahjáleiga is located on the South Coast of Iceland, approx. 24 km from the village Vík, and 165 km (2 hour drive) from Reykjavík.
We are ideally located to serve as a base when travelling and exploring South Iceland as many of the South Coast's natural attractions are located within short driving distances from our guesthouse.
In the village of Vík, you will find all necessary services, such as grocery stores, post office, bank, pharmacy and swimming pool. The village also features a black sand beach with excellent view to the Reynisdrangar sea cliffs.
There is an abundance of tour companies operating in the area, offering glacier tours,  ice cave tours, horseback riding tours, hiking tours, snowmobile and super jeep tours, just to name a few. We are happy to advise you and help you plan your stay and book your tours, just ask us!
We are part owners of the farmland where the well-known Sólheimasandur DC-3 plane wreck can be found. The plane wreck is located a few km from the guesthouse. It is possible to hike to the wreck but we also offer tours in partnership with KatlaTrack, a popular local tour operator.
Sólheimasandur plane wreck - 2 km
The scenery of the abandoned DC plane laying in black sand is picturesque and a photographers dream.
Skógafoss waterfall - 12 km
Skógafoss is one of Iceland's biggest and most beautiful waterfalls with an astounding width of 25 meters and a drop of 60 meters.
Seljavallalaug swimminng pool - 20 km
The oldest swimming pool in Iceland, built in 1923, has been the subject of many photographs from Iceland.
Vík - 24 km
A charming village with around 320 inhabitants. It has all the necessary services for travellers, such as a gas station, grocery store and a local swimming pool. 
Reynisfjara Black Beach - 25 km
The most famous black beach in Iceland. The beautiful black sand, powerful waves, and the nearby Reynisdrangar sea stacks make Reynisfjara a truly unique place to visit.
Dyrhólaey - 18 km
The 120 m high basalt rock is a former volcanic island, formed in an eruption some one hundred thousand years ago. One of the most popular stops on the South Coast.
A homely and friendly place
We stayed only one night, and loved it! The place is very homey, is even better than in the pictures. Rooms and bathrooms (wonderful shower!) are very clean and tastefully done, the staff very friendly and the location is great. Kitchen is handy and the breakfast very tasty. They also sell handknitted Iceland jumpers for a very reasonable price.
Such a beautiful place
Absolutely loved our 2 night stay here amazing convenient for so many sights we will be back. Clean and so friendly. We are clean freaks and I honestly couldn't find anything amiss at all. The breakfast was great. Would be perfect for viewing the northern lights!
Quaint and restful
My husband, daughter and I stayed in a triple room. The space was quite comfortable and very well kept. We all slept great and enjoyed a delicious breakfast! It was a lovely inn. My daughter also enjoyed visiting the goats and chickens. Thank you for making our trip to Iceland memorable!
Cosy guesthouse
Clean and comfortable. The shared bathrooms were spotless, the breakfast was substantial, and the bed was cosy. I slept like a log. Highly recommend this place! Convenient after a day on the south coast.
Lovely and homely
Stayed one night in the old barn – rooms were comfortable and very cosy. Very clean and well set out. The communal area offers free tea and coffee, tv, board games and books. This is a well-kept farm and a joy to stay in. Food is freshly cooked and very tasty. As in everywhere in Iceland meals are not cheap – that's just how it is. Make sure you check out the sheep shack when you visit.
The best on our week in Iceland
My wife and I were seven days in Iceland and stay in 6 different places, and this was the best. The place is comfortable, clean, cute, the bathroom was big and super nice, the kitchen area was big and plenty of parking place.
The girl that attend us was a genuinely nice and helpful person. When we left she was on the gate walking and gave us a smile and a bye-bye hand wave.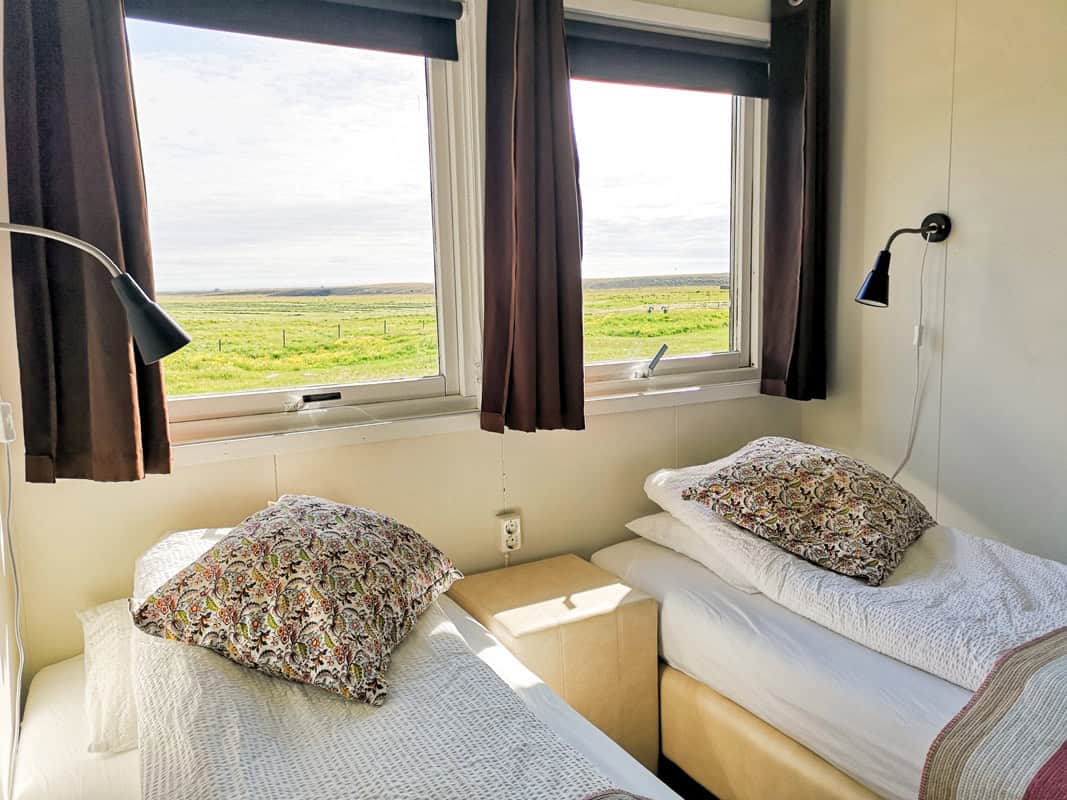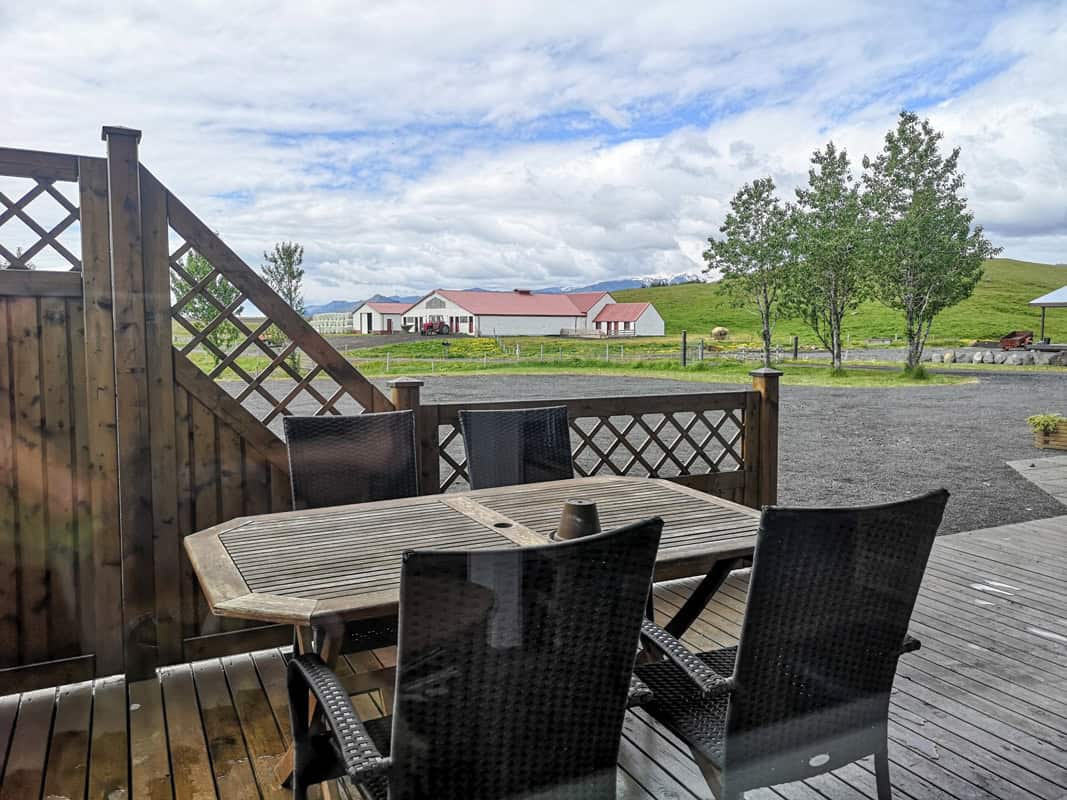 Check-in / Check-out
Check-in is after 16 on the day of your arrival. The reception is open until 22, so please let us know for late arrivals. Check-out is before 11 on the day of your departure.
Our farm
Our guesthouse is also a sheep farm and you are welcome to interact with the farm animals. If you would like to know more about our farm operations and get a tour of the sheep house, please let us know.
Wi-fi
We offer free Wi-fi connection throughout the property. The Wi-fi is open and does not require a password. 
Guesthouse facilities
All guests have access to a common kitchen, located in the Old House, where you can prepare light meals. Free parking is available on-site.
Breakfast / Dinner
Breakfast is included in our room rate and is served daily in our dining room. Dinners can be arranged upon request for an additional fee.
Other services
We offer daily housekeeping in our guesthouse. We are happy to advise and help you book your tours around the area and we also offer packed lunches upon request. We have a laundry service for a small additional fee.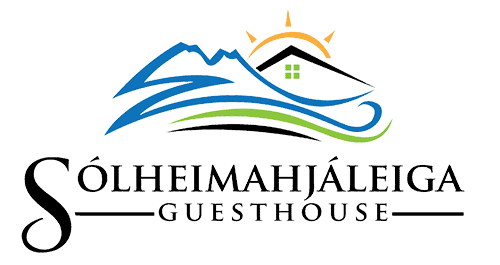 Sólheimahjáleiga, 871 Vík